Top 171+ Good Night Quotes
How do you feel when you receive good night messages from your friends or relatives? If feel great, isn't it? As such, you should also take your time to wish those people you value and care about a good night. If you don't have the lines to make your message special, you need to research a bit by reading some of the best good night quotes. The quotes are full of love and wisdom to make them feel loved and appreciated. Here are quotes about good night wishes you can consider.
"Every day I spend with you is the new best day of my life. Can't wait for the morning. Good night, baby"
"As the moonlight dims and the world goes quite, give yourself some rest. Here's to hoping that your sleep is as sweet as you are."
"Because of you, I can feel myself slowly, but surely, becoming the me I have always dreamed of being." – Tyler Knott Gregson
"Night is to see the dreams and day is to make them true. So its good to sleep now and see the dreams. Good night, sweet dreams!"
"Good night. Let the stars light the way to where your dreams can be found awaiting your arrival." – Anthony T. Hincks
"Life without sleeping does not exist, day without night is not the blessing, this your time to enjoy God's nature inside of you with your eyes closed."
"I just want to say good night, sweet prince, may flights of angels sing thee to rest." – Harry Dean Stanton
"The darker the night, the brighter the stars, The deeper the grief, the closer is God!." – Fyodor Dostoyevsky
"They say when you're missing someone that they're probably feeling the same, but I don't think it's possible for you to miss me as much as I'm missing you right now." – Edna St. Vincent Millay
"A day is going to end again. It is nice to have a friend like you. Making my everyday seems so great. Thank you my friend lastly. Sweet dreams."
"I don't care how hard being together is. Nothing is worse than being apart." – Josephine Angelini
"The sun is upset now, but the moon dances in joy. Although the sun is depressed at seeing you go, the moon gets to enjoy the whole night with you."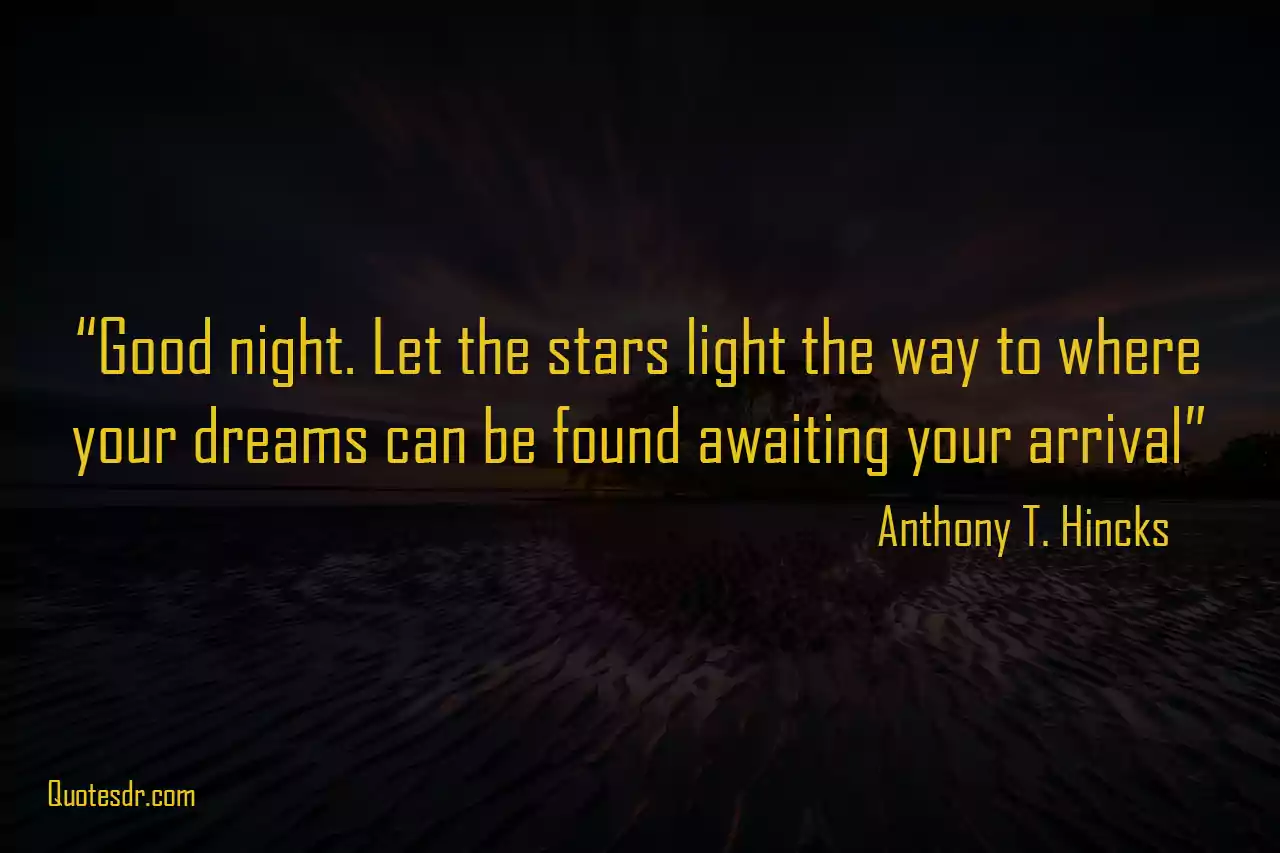 Special Good Night Quotes
"If someone wishes you good night every day you are happier than so many people."
"Make sure to be thankful before bed. What you think about now will determine the state of your dreams."
"I love you the way a drowning man loves air. And it would destroy me to have you just a little." – Rae Carson
"Each day I wish that my dreams will come true. Then I remember that I am now with you."
"When I want you in my arms, when I want you and all your charms, whenever I want you, all I gotta do is dream." – The Everly Brothers
"Each night, I hope that the moon is large and bright and you will be happy and right. When you turn off the light, keep in mind that I am dreaming of you."
"Good night, and good luck." – Edward R. Murrow
"I've never had a moment's doubt. I love you. I believe in you completely. You are my dearest one. My reason for life." – Atonement
"As you fall asleep, I want you to remember what a good person you are. Remember that I admire you and care for you. Sweet dreams."
Good Night Quotes Love
"No matter how far you are you are always in my thoughts! Good night."
"Every night I love coming back home. Because home is being in your arms. Good night, my love."
"It's like my life isn't even real to me unless you're there and you're in it and I'm sharing it with you." – "Gilmore Girls"
"Good night and wonderful dreams. Sleep tight, my love. May tomorrow be sunny and bright, and a day that brings you closer to me"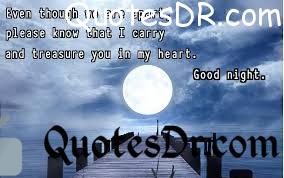 "One day, I wish my dream would come true and I would wake up next to you. Till then, good night."
"I wasn't expecting you. … The single most extraordinary thing I've ever done with my life is fall in love with you. I've never been seen so completely, loved so passionately, and protected so fiercely." – "This Is Us"
"Listen to the night sky; the mockingbird always sings you my lullaby." – Jmemo
"Good night. May you fall asleep in the arms of a dream so beautiful you'll cry when you awake." – Michael Faudet
"Everything I do, I do it for you." – Bryan Adams
Good Night Quotes in English
"I can't close my eyes without you in my dreams." – Luke Bryan
"Thinking of you keeps me awake. Dreaming of you keeps me asleep. Being with you keeps me alive." – Unknown
"Take a deep breath and sleep tight while dreaming of me. Sweet dreams." – RomanceBetweenTheLines.com
"You're nothing short of my everything." – Ralph Block
"I wish I was there to hold you tight, instead of just sending you this loving 'good night.'" – Unknown
"I know that you are the one, because when we are apart, I feel incompete. I never want to be without you. Goodnight." – Prasad Dev
"Each day I wish that my dreams will come true. Then I remember that I am with you." – Unknown
"For thousands of nights, I dreamed of making love to you. No man on Earth has ever hated sunrise as I do." – Again the Magic
Good Night Quotes Motivational
"May I kiss you then? On this miserable paper? I might as well open the window and kiss the night air." – Franz Kafka
Read also: 199+ Lao Tzu Quotes on Life, Love and Happiness
"You are the best thing that's ever been mine." – Taylor Swift
"I wonder how well you sleep at night, and what kind of dreams you have. I wish I could step into them as you step into mine. Goodnight, my beautiful." – Fred Parquet
"I have found the one whom my soul loves." – Song of Solomon 3:4
"You are my blue crayon—the one I never have enough of—the one I use to color my sky." – A.R. Rasher
"The time between good night to good morning, all poetries are mentioned by her with his love and their good memories." – Vaishal Sheth
Good Night Quotes for Friends
"Good night, good night! Parting is such sweet sorrow, that I shall say good night till it be morrow." – William Shakespeare
"In case you ever foolishly forget, I am never not thinking of you." – Virginia Woolf
"You are the finest, loveliest, tenderest and most beautiful person I have ever known—and even that is an understatement." – F. Scott Fitzgerald
"If I had to choose between breathing and loving you, I would use my last breath to tell you I love you." – DeAnna Anderson
"Sleep, my love, dream happy dreams. You are the only one who has ever touched my heart. It will forever be yours." – Stephanie Meyer
"Take a look out your window now. Although we may be apart at the moment we can both gaze up at the same moon. Good night." – Sid Mohanty
"Distance unites missing beats of two hearts in love." – Munia Khan
"Good night my dearest love and have pleasant dreams. Here's to hope that tomorrow will be as sunny and bright as you are." – Anthony T. Hincks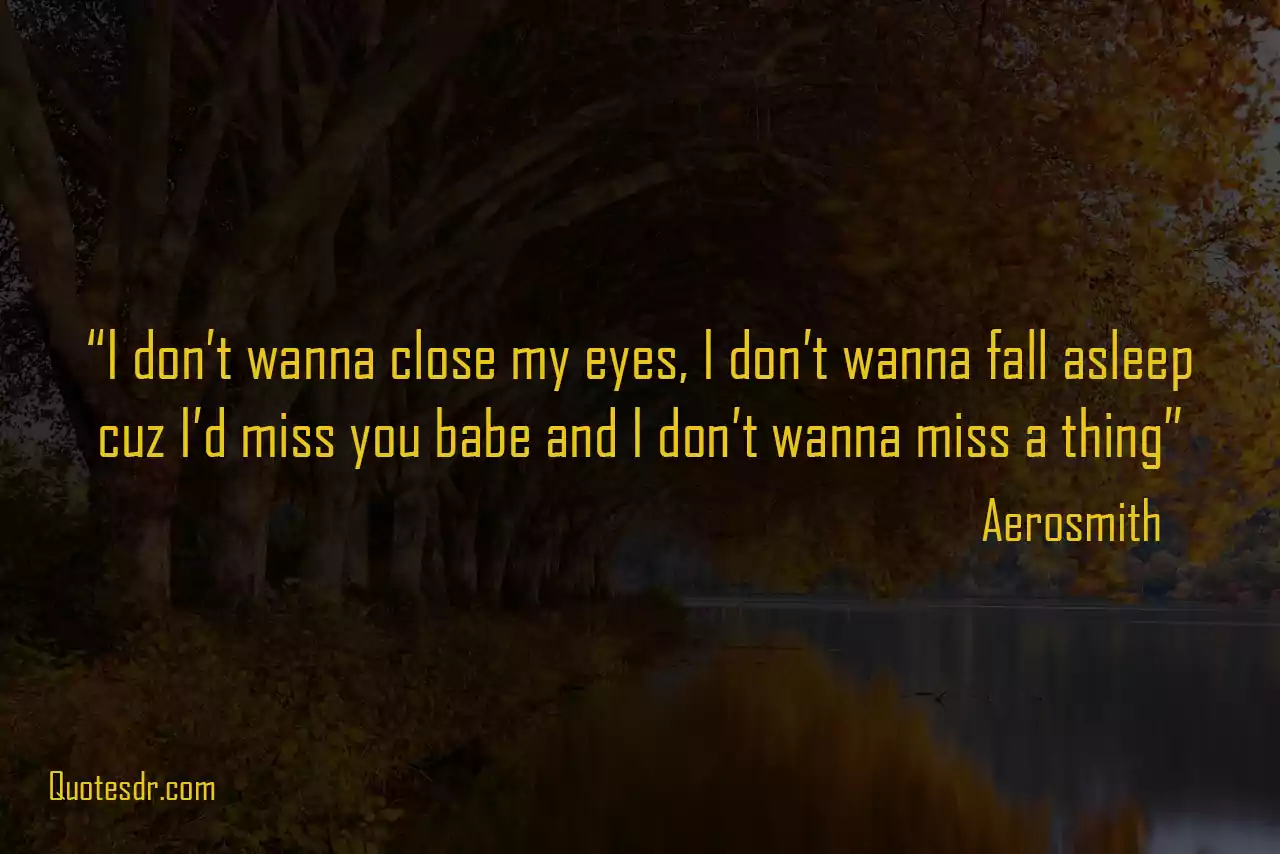 Good Night Quotes New
"All that you are is all I'll ever need." – Ed Sheeran
"The pain of missing you is a beautiful reminder of the joy of loving you." – Dean Jackson
"Night has come. It is time for you to sleep, my love, so we can be happy tomorrow as we usually are." – Ambika
"The moon is full, the night is deep, nature is alive—the only thing missing is you, next to me as we sleep." – Nicholas Staniszewski
"My night has become a sunny dawn because of you." – Ibn Abbad
"If I had to dream up the perfect woman, she wouldn't even come close to you." – Boy Meets World
"In all the world, there is no heart for me like yours. In all the world, there is no love for you like mine." – Maya Angelou
"Love is missing someone whenever you're apart, but somehow feeling warm inside because you're close in heart." – Kay Knudsen
"I don't wanna close my eyes, I don't wanna fall asleep, cuz I'd miss you babe and I don't wanna miss a thing." – Aerosmith
"You're the closest to heaven that I'll ever be." – Goo Goo Dolls
"We are made of particles that existed since the moment the universe began. I like to think those atoms traveled 14 billion years through time and space to create us so that we could be together and make each other whole." – The Big Bang Theory
Sweet Good Night Quotes
"I wish I could do everything on Earth with you." – F. Scott Fitzgerald
"Dreaming of you is my greatest escape." – Perry Poetry
"Love you yesterday, love you still, always have, always will." – Elaine Davis
"You'll be the last thing I think of before I fall asleep and the first thing I think of when I wake up." – A.G. Henley
"I want to be in your arms, where you hold me tight and never let go." – Unknown
"Good night, my angel. Time to close your eyes." – Billy Joel
"The best thing to hold onto in life is each other." – Audrey Hepburn
"How strange, to dream of you, even when I am wide awake." – D.J.
"I'd rather spend one moment holding you than a lifetime of knowing I never could." – Unknown
"All I wish is that the nights when we are together would never end. When we are apart, I cannot bear it. Good night, my love."
"You are my heart, my life, my one and only thought." – Sir Arthur Conan Doyle
"You should be kissed often and by someone who knows how." – Gone With the Wind
"I think the best way to get a good night sleep is to work hard throughout the day. If you work hard and, of course, work out." – William H. McRaven
"I hope you know that every time I tell you to get home safe, stay warm, have a good day or sleep well what I'm really saying is I love you. I love you so damn much that it's starting to steal other words' meanings." – Unknown
"Each night, when I go to sleep, I die. And the next morning, when I wake up, I am reborn." – Mahatma Gandhi
"Your words are my food, your breath is my wine. You are everything to me." – Sarah Bernhardt
"I love you. I am at rest with you. I have come home." – Dorothy L. Sayers
"In a sea of people, my eyes will always be searching for you." – Unknown
"Those who dream by day are cognizant of many things which escape those who dream only by night." – Edgar Allan Poe
Good Night Quotes for Her
"Every night, I think of you before bed with the hopes of having you in my dreams." – Unknown
"A hundred hearts would be too few to carry all my love for you." – Henry Wadsworth Longfellow
"Some nights are made for torture, or reflection, or the savoring of loneliness." – Poppy Z. Brite
"And in her smile, I see something more beautiful than the stars." – Beth Revis
"This is the end of the day, but soon there will be a new day. Keep your spirits up because there are always more chances."
"You have me. Until every last star in the galaxy dies, you have me." – Amie Kaufman
"You know you're in love when you can't fall asleep because reality is finally better than your dreams." – Dr. Seuss
"Good night, good night! Parting is such sweet sorrow, that I shall say good night till it be morrow." – William Shakespeare
"This is the end of the day, but soon there will be a new day." – Bernard Shaw
"How did it get so late so soon?" – Dr. Seuss
"Dreams are the best part of life. If you miss sleep, you miss the best part of life. So go to bed and catch sweet dreams."
"Never apologize for burning too brightly or collapsing into yourself every night. That is how galaxies are made." – Tyler Kent
"May you dream of lovely things and wake to find them real." – J.J. Heller
"You are the reason why I have sleepless nights. You are the reason why I tend to hold my pillow tight. And you are the reason I can't sleep without saying goodnight"
"I just wanted you to know you were missed." – Megan Erickson
"Here is to hoping that angels will guard you while you dream and the gentle breezes of the night will keep you cool." – Unknown
"I love you and that's the beginning and end of everything." – F. Scott Fitzgerald
"All I do each day is wait to be with you again. My entire day revolves around the hope that I can spend my evenings in your arms again." – Unknown
The above good night quotes will not only make your friends and relatives smile, but also shows some love and care. You can use the quotes to compose good night messages for the people you love. Therefore, read the quotes regularly and use them on your good night messages. That will make the recipients smile and feel loved.