Louie Simmons Quotes: Motivation to Put More Effort into Workout
To see desired results when working out, you need to set realistic goals and work hard towards achieving them. It won't be easy, but with determination and discipline you can make it. Besides, you need motivation to keep you working hard until you the see desired results. You can be inspired by top athletes and trainers such as Louie Simmons, who is a great powerlifter and trainer. Read on to know Louie Simmons quotes and some information about this great strength coach.
About Louie Simmons; the Strength and Conditioning Coach
Louie Simmons is one of the former American powerlifters who have done a lot to improve powerlifting and training for athletes. He won a lot of titles and has participated in many powerlifting competitions. Simmons is the owner of Westside Barbell Gym, and has invented different strength and conditioning training techniques and instruments. He developed Westside Conjugate method, Reverse Hyper, among other things that have improved powerlifting.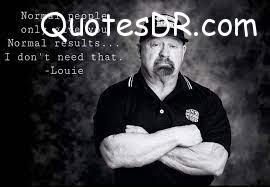 Besides the inventions, he is also a great strength and conditioning coach who have helped many athletes ranging from Olympic gold medal sprinters to UFC champions. He has also trained various college teams as well as NFL teams. He has achieved a lot, but his journey has not been easy. In his career, he broke his back twice and struggled a lot to recover. Through creativity, hard work, determination, and the help of experts he recovered, and has continued to help people and athletes in weight training. Besides the physical training, Simmons helps athletes with mental health. He knows that healthy and mentally strong athletes can easily win any game.
Some Motivational Louie Simmons Quotes
"That's what this gym is…a journey into hell." Louie Simmons
"Normal people only give you normal results…I don't need that." Louie Simmons
"Don't be afraid to fail or look like a fool. These are necessary milestones your way to the top." Louie Simmons
"Just when you think you have all the answers. You need to start asking new questions." Louie Simmons
"Did you ever notice those who criticize the strong or the elite are usually weaker or less successful than those they pass judgment on. And those who are strong or elite in their respective sports rarely condemn those who are not as strong or as successful as they are." Louie Simmons
Why You Should Read Quotes by Louie Simmons
Louie Simmons has gone through a lot and seen many things in this life, especially in sports. Besides being an accomplished powerlifter and strength coach, he is also a great author who shares wise quotes that can enlighten you on many things in sports. Most of Louie Simmons quotes will enlighten you on how you can get better and better during workouts. Also, the quotes will enlighten you about different things in life
Most of his quotes are motivational and will motivate you to keep working hard until you achieve your workout goals. By just reading his quotes you will feel challenged and energized at the same time to put in more effort into your work out. That way, you can easily love work out sessions and love every exercise you do to be physically strong and fit.
Final Words
Louie Simmons is an exceptional gym trainer who has helped a huge number of athletes with strength and conditioning training. Besides, Louie Simmons quotes motivate and enlighten athletes as well as people who want to work on their strength and fitness. Read the quotes, and you will be motivated to put in more effort into your workout until you achieve your fitness goals.