177+ Most Beautiful Darkness Quotes And Sayings
Darkness is associated with many good as well as bad things. But all in all, there are many things associated with darkness that can enlighten you in life. You can learn more about these things by reading quotes and sayings of darkness. Most of these quotes have unique messages that will sharpen your mind and inspire you in many ways. Here are the most beautiful darkness quotes and sayings you can read and share with relatives and friends.
"Darkness cannot drive out darkness: only light can do that. Hate cannot drive out hate: only love can do that."
― Martin Luther King Jr., A Testament of Hope: The Essential Writings and Speeches 
"We can easily forgive a child who is afraid of the dark; the real tragedy of life is when men are afraid of the light."
― Plato 
"There comes a time when something changes you… No matter the impact… Where the world no longer beats in time with you. You no longer feel amongst the fray.. And the feeling of loneliness is a brandished armor you wear the rest of your life."
― Solange nicole 
"There are darknesses in life and there are lights, and you are one of the lights, the light of all lights."
― Bram Stoker, Dracula 
"You would like to read, but somehow the rain gets into the book, too; not literally, and yet it really does, the letters are meaningless, and all you hear is the rain."
― Sándor Márai, Embers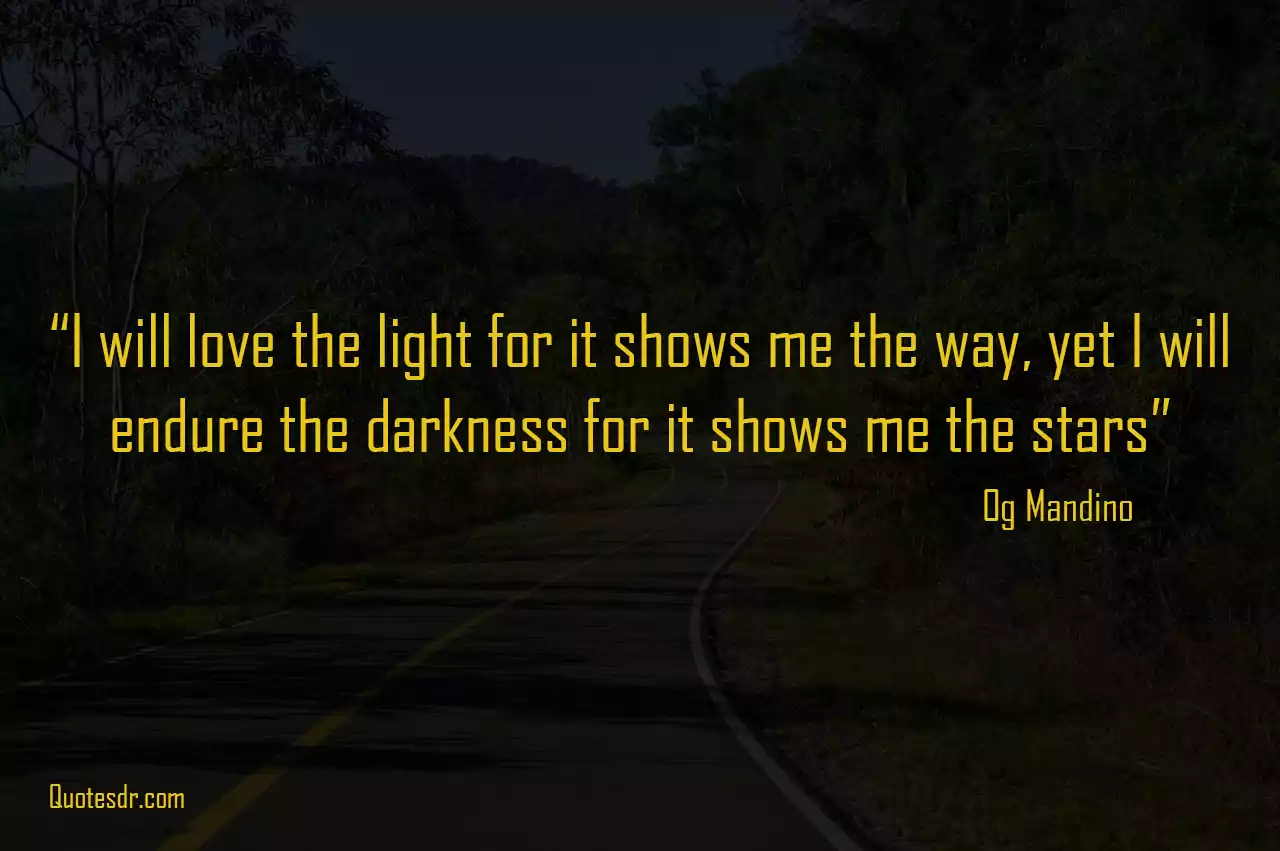 Sad Darkness Quotes
"Everyone is a moon, and has a dark side which he never shows to anybody."
"Most of us are imprisoned by something. We're living in darkness until something flips on the switch."
― Wynonna Judd 
"Stars, hide your fires; Let not light see my black and deep desires."
― William Shakespeare, Macbeth 
"I am a forest, and a night of dark trees: but he who is not afraid of my darkness, will find banks full of roses under my cypresses."
― Friedrich Nietzsche, Thus Spoke Zarathustra 
"There is only what you want and what happens. There is only grabbing on and holding tight in the darkness."
― Lauren Oliver, Hana 
"I envy people that know love. That have someone who takes them as they are."
― Jess C Scott, The Devilin Fey 
"The night belongs to beasts of prey, and always has. It's easy to forget that when you're indoors, protected by light and solid walls."
― Cornelia Funke, Inkheart 
"When you light a candle, you also cast a shadow."
― Ursula K. Le Guin 
Smile in Darkness Quotes
"What hurts you, blesses you. Darkness is your candle."
― Rumi 
"Life is like coffee, the darker it gets, the more it energizes."
― Ankita Singhal 
"I will love the light for it shows me the way, yet I will endure the darkness for it shows me the stars."
― Og Mandino 
"Into the darkness they go, the wise and the lovely. "
― Edna St. Vincent Millay 
"Don't call anyone a devil, because within you, you can experience hell and the devil, and the devil is nothing, but you!"
― Michael Bassey Johnson 
"When you spend so long trapped in darkness, you find that the darkness begins to stare back."
― Sarah J. Maas, A Court of Mist and Fury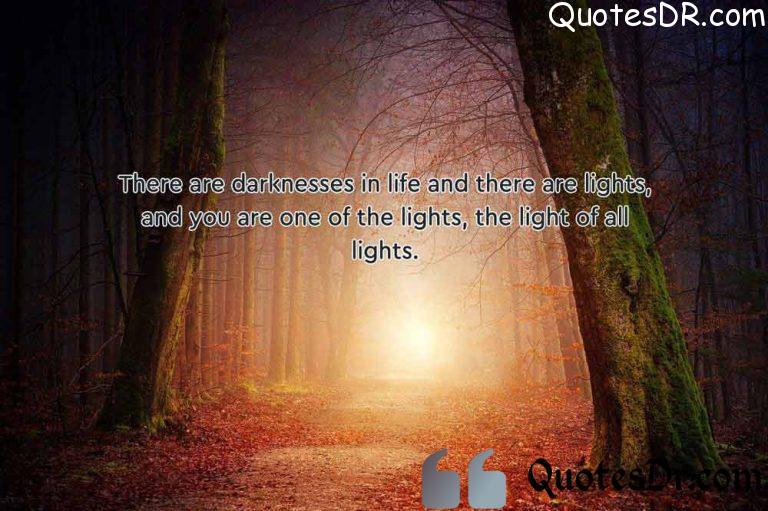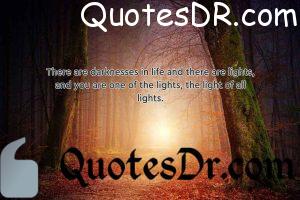 "Long is the way and hard, that out of Hell leads up to light."
― John Milton, Paradise Lost 
"The sun does not abandon the moon to darkness."
― Brian A. McBride, Dominion 
Dark Truth Quotes
"How can I be substantial if I do not cast a shadow? I must have a dark side also If I am to be whole."
― C.G. Jung, Modern Man in Search of a Soul 
"Accept your dark side, understanding it will help you to move with the light. Knowing both sides of our souls, helps us all to move forward in life and to understand that, perfection doesn't exist."
― Martin R. Lemieux 
"Yet, no matter how deeply I go down into myself, my God is dark, and like a webbing made of a hundred roots that drink in silence."
― Rainer Maria Rilke, The Selected Poetry of Rainer Maria Rilke 
"One need not be a chamber to be haunted."
― Emily Dickinson, The Complete Poems of Emily Dickinson 
"It's not easy to be Light when you've been Dark. It's almost too much to ask anyone.
-Macon Ravenwood"
― Margaret Stohl, Beautiful Darkness 
Happiness in Darkness Quotes
"What makes night within us may leave stars."
― Victor Hugo, Ninety-Three 
"Do not let your difficulties fill you with anxiety, after all it is only in the darkest nights that stars shine more brightly."
― Ali Ibn Abi Talib AS 
"I used to cover my windows in heavy curtains, never drawn. Now I danced in the sunlight on my hardwood floors."
― Kimberly Novosel, Loved 
"I am terrified by this dark thing
That sleeps in me;
All day I feel its soft, feathery turnings, its malignity."
― Sylvia Plath, Ariel 
"I had learned early to assume something dark and lethal hidden at the heart of anything I loved. When I couldn't find it, I responded, bewildered and wary, in the only way I knew how: by planting it there myself."
― Tana French, In the Woods 
"we must bring our own light to the darkness."
― Charles Bukowski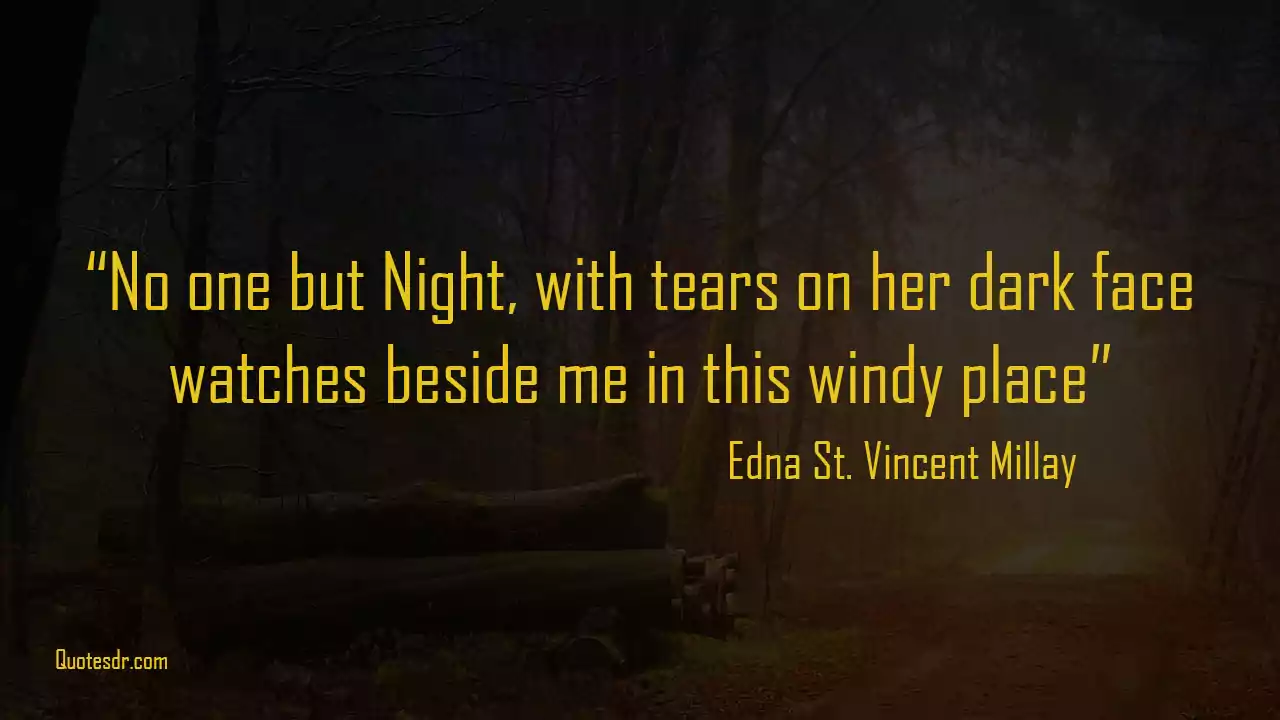 Love Darkness Quotes
"I wonder if that's how darkness wins, by convincing us to trap it inside ourselves, instead of emptying it out.
I don't want it to win."
― Jasmine Warga, My Heart and Other Black Holes 
"There were a billion lights out there on the horizon and I knew that all of them put together weren't enough to light the darkness in the hearts of some men."
― Michael Connelly, The Scarecrow 
"I don't need to kill goats to say things. I CAN talk."
― L.J. Smith, Daughters of Darkness 
"Too much of anything could destroy you, Simon thought. Too much darkness could kill, but too much light could blind."
― Cassandra Clare, City of Lost Souls 
"Fear can only grow in darkness. Once you face fear with light, you win."
― Steve Maraboli, Life, the Truth, and Being Free 
"By night, Love, tie your heart to mine, and the two
together in their sleep will defeat the darkness"
― Pablo Neruda, 100 Love Sonnets 
After Darkness Quotes
"Numb the dark and you numb the light."
― Brené Brown, Daring Greatly: How the Courage to Be Vulnerable Transforms the Way We Live, Love, Parent, and Lead 
"Once upon a time," he said out loud to the darkness. He said these words because they were the best, the most powerful words that he knew and just the saying of them comforted him."
― Kate DiCamillo, The Tale of Despereaux 
"All shadows of clouds the sun cannot hide
like the moon cannot stop oceanic tide;
but a hidden star can still be smiling
at night's black spell on darkness, beguiling"
― Munia Khan 
"I'm sorry, Gemma. But we can't live in the light all of the time. You have to take whatever light you can hold into the dark with you."
― Libba Bray, A Great and Terrible Beauty 
"When you look up/ Do you see the blue sky of what might be / Or the darkness of what will never be? / Do you see me?
Kami Garcia/Margaret Stohl"
― Kami Garcia, Beautiful Darkness 
"Real things in the darkness seem no realer than dreams."
― Murasaki Shikibu, The Tale of Genji 
"Use the wings of the flying Universe,
Dream with open eyes;
See in darkness."
― Dejan Stojanovic 
"To fight evil, you have to understand the dark."
― Nalini Singh, Heart of Obsidian 
"No one but Night, with tears on her dark face, watches beside me in this windy place."
― Edna St. Vincent Millay 
"Darkness does not leave us easily as we would hope."
― Margaret Stohl 
"Do not be dismayed by the brokenness of the world. All things break. And all things can be mended. Not with time, as they say, but with intention. So go. Love intentionally, extravagantly, unconditionally. The broken world waits in darkness for the light that is you."
― L.R. Knost 
Read also: 130+ Best Ferris Bueller Quotes From Ferris Bueller's Day Off
"You see, there are no pretty pink flowers in the woods at night."
― J.K. Franko, Eye for Eye 
"Some people are in such utter darkness that they will burn you just to see a light. Try not to take it personally."
― Kamand Kojouri 
"The continuous narrative of existence is a lie. There is no continuous narrative, there are lit-up moments, and the rest is dark."
― Jeanette Winterson 
"One does not become enlightened by imagining figures of light, but by making the darkness conscious. The latter procedure, however, is disagreeable and therefore not popular."
― C.G. Jung 
"Life throws challenges and every challenge comes with rainbows and lights to conquer it."
― Amit Ray, World Peace: The Voice of a Mountain Bird 
"In the heartfelt mercy of our God, the dawn from on high will visit us, to shine on those sitting in darkness, in the shadow of death, to guide our feet to the way of peace."
― Anonymous, Holy Bible: King James Version 
"I mean only that I hope they find darkness or paradise without fear of it, if they can."
― Erin Morgenstern, The Night Circus 
"How terrible this darkness was, how bewildering, and yet mysteriously beautiful!"
― Stefan Zweig, The Burning Secret and other stories 
"To those who, in spite of everything, still choose goodness"
― Marie Lu, The Midnight Star 
"People often believed they were safer in the light, thinking monsters only came out at night. But safety – like light – is a façade."
― C.J. Roberts, Captive in the Dark 
"After a lifetime of darkness, I want to leave something behind that is made of light."
― Marie Lu, The Midnight Star 
"If there be light, then there is darkness; if cold, heat; if height, depth; if solid, fluid; if hard, soft; if rough, smooth; if calm, tempest; if prosperity, adversity; if life, death."
― Pythagoras 
"Darkness approaches from outside.
I feel no light inside me strong enough to resist it."
― Christopher Pike, The Last Vampire 
"The strongest trees are rooted in the dark places of the earth. Darkness will be your cloak, your shield, your mother's milk. Darkness will make you strong."
― George R.R. Martin, A Dance with Dragons 
"Darkness… When everything that you know and love… is taken from you so harshly… all you can think about is anger, hatred, and even revenge… and no one can save you."
― Orochimaru 
"The Russian soul is a dark place."
― Fyodor Dostoyevsky, The Idiot 
"All great beginnings start in the dark, when the moon greets you to a new day at midnight."
― Shannon L. Alder 
"The moon will guide you through the night with her brightness, but she will always dwell in the darkness, in order to be seen."
― Shannon L. Alder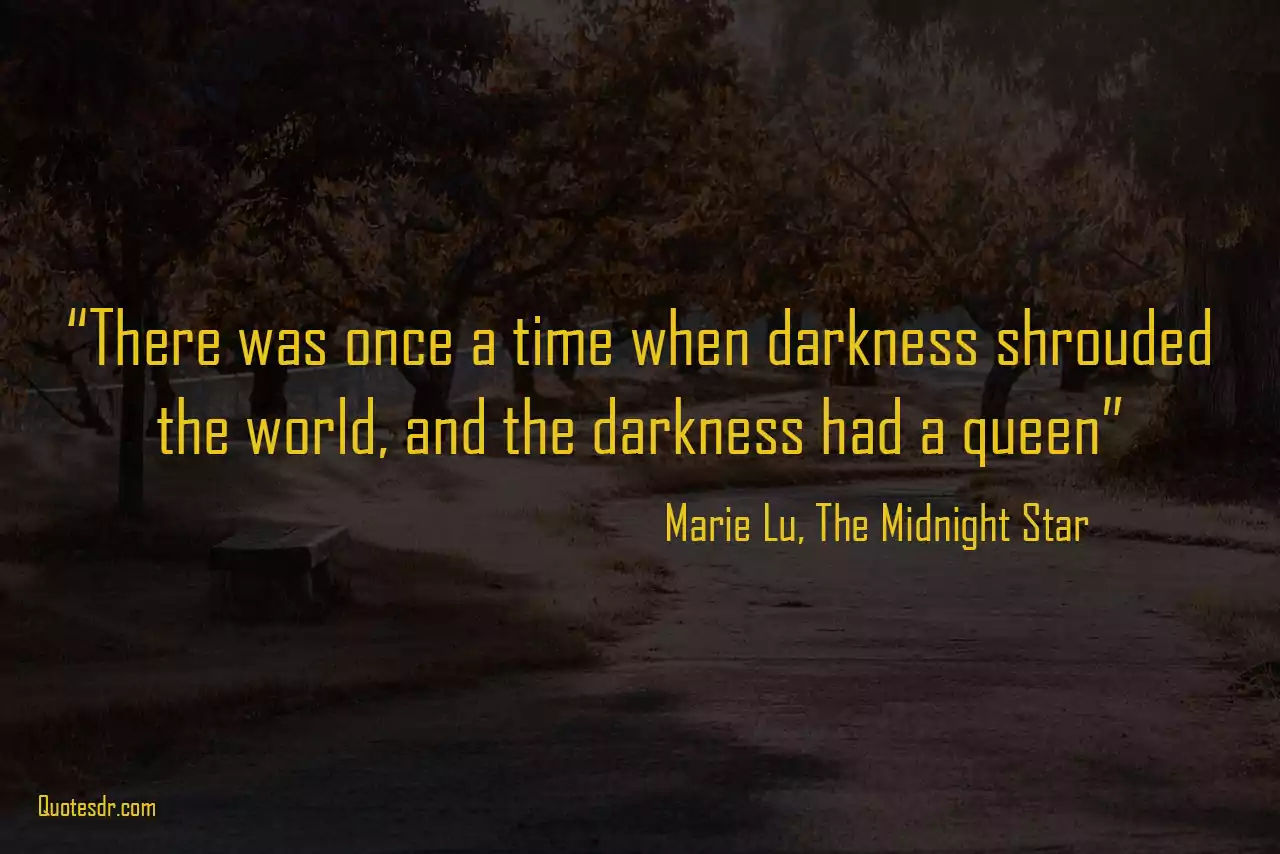 "Surrounded by darkness yet enfolded in light"
― Alan Brennert, Moloka'i 
"You are not what you are;
You are darkness
Looking for light within."
― Dejan Stojanovic, Circling: 1978-1987 
"I buried my head under the darkness of the pillow and pretended it was night. I couldn't see the point of getting up. I had nothing to look forward to."
― Sylvia Plath, The Bell Jar 
"The most precious light is the one that visits you in your darkest hour!"
― Mehmet Murat ildan 
"There was once a time when darkness shrouded the world, and the darkness had a queen."
― Marie Lu, The Midnight Star 
"There is no denying that there is evil in this world but the light will always conquer the darkness."
― Idowu Koyenikan, Wealth for All: Living a Life of Success at the Edge of Your Ability 
"What strange places our lives can carry us to, what dark passages."
― Justin Cronin, The Passage 
"Ten years of shadows, but no longer. Light up the darkness, Majesty."
― Sarah J. Maas, Queen of Shadows 
"Here then at long last is my darkness. No cry of light, no glimmer, not even the faintest shard of hope to break free across the hold."
― Mark Z. Danielewski, House of Leaves 
"Stories are light. Light is precious in a world so dark. Begin at the beginning. Tell Gregory a story. Make some light."
― Kate DiCamillo, The Tale of Despereaux 
"I am the light of the world. Whoever follows me will never walk in darkness, but will have the light of life."
― Anonymous, Life Application Study Bible: NIV 
"Carry the fire."
― Cormac McCarthy, The Road 
"You need to spend time crawling alone through shadows to truly appreciate what it is to stand in the sun."
― Shaun Hick 
"But they can't know how the dark space inside me is growing. I lie to them. I can't get out of the dark hole. 'Peace is here' it whispers."
― Lurlene McDaniel, Breathless 
"Rather he consoled himself with the fact that, in the real world, when he looked closely into the darkness he might find the presence of a light, damaged and bruised, but a little light all the same."
― Colum McCann, Let the Great World Spin 
"I am coming unraveled. I am coming undone."
― Holly Black, The Cruel Prince 
"I do not speak as I think, I do not think as I should, and so it all goes on in helpless darkness."
"When darkness falls and eyes stay shut
A chain of voices opens up.
Let wax not wane give breath to death.
p.s. Shhh" -Yvonne Woon(Dead Beautiful)"
― yvonne woon 
"Time takes it all whether you want it to or not, time takes it all. Time bares it away, and in the end there is only darkness. Sometimes we find others in that darkness, and sometimes we lose them there again."
― Stephen King 
"I looked into those eyes and I saw nothing. It was like staring straight into the Underworld. Like he aches to return to where he came from."
― Marie Lu, The Rose Society 
"There's light and joy, but there's also darkness all around and we can be lost in it."
― David Almond, Kit's Wilderness 
"People will do anything, no matter how absurd, in order to avoid facing their own souls. One does not become enlightened by imagining figures of light, but by making the darkness conscious."
― Carl Jung, Psychology and Alchemy 
"You can't study the darkness by flooding it with light."
― Edward Abbey, The Best of Edward Abbey 
"The exceeding brightness of this early sun
Makes me conceive how dark I have become."
― Wallace Stevens, The Palm at the End of the Mind: Selected Poems and a Play 
"A man must dream a long time in order to act with grandeur, and dreaming is nursed in darkness."
― Jean Genet
"Just remember, a dark shadow need light to exist but light doesn't need darkness to be luminous."
― Gwen Hayes, Dreaming Awake 
"Look at how a single candle can both defy and define the darkness."
― Anne Frank 
"Life isn't just about darkness or light, rather it's about finding light within the darkness."
― Landon Parham, First Night of Summer 
"I'm not afraid of the darkness outside.
It's the darkness inside houses I don't like."
― Shelagh Delaney 
"Light thinks it travels faster than anything but it is wrong. No matter how fast light travels, it finds the darkness has always got there first, and is waiting for it."
― Terry Pratchett, Reaper Man 
"The pain of severe depression is quite unimaginable to those who have not suffered it, and it kills in many instances because its anguish can no longer be borne."
― William Styron 
"Darkness promotes speech."
― Alberto Manguel, The Library at Night 
"Someone I loved once gave me a box full of darkness. It took me years to understand that this too, was a gift."
― Mary Oliver
Thank you for reading the above most beautiful darkness quotes and sayings. As you have noticed, the quotes are exciting and will help you in making important decisions in life. Also, the quotes will enlighten you on a wide range of things about life. Therefore, read the quotes regularly, and remember to share them with people around you.